Pups for sale
Please call or email if you see
a pup you are interested in!
We have decided not to raise Yorkies anymore. Although we love the breed very much we have decided to venture in a different direction.
Thank you to all of our past clients for giving our babies loving forever homes! Remember that My word still stands true that If You ever need to rehome your pet from us at any point in its life it will always be welcome back here.



Click below for a list of supplies and tips!!
Click below for potty training tips!!
For videos of our dogs, available puppies and how to videos * view or subscribe to our youtube channel!!
Click on the box below!!

Check out our Boutique to see the cute puppy clothes we offer!

If at anytime I feel that the Home is not suitable for the Puppy
I Have the Right To Refuse or Cancel any sale at Anytime.

We have the right to change our price at any time on any puppy that is not sold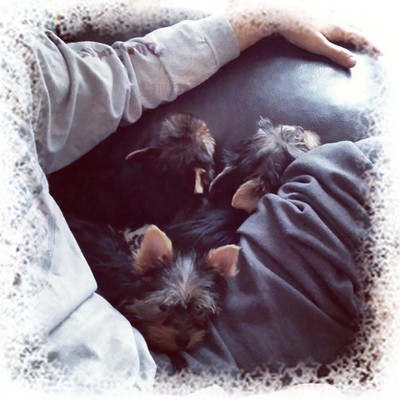 Spoiled Babies !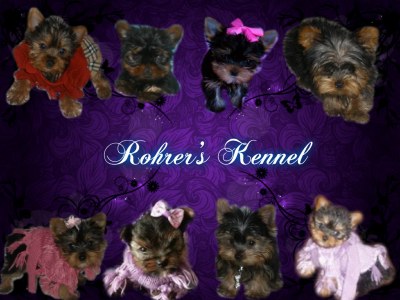 Our prices range from $1500.00-$2,500.00
Occasionaly we will sell to a small breeder for an additional fee.
Otherwise sold with Limited Registration.
We do not price our puppies until they have reached an age
where we can tell more about how they will mature.
We breed to the AKC Standard which is 4-7 lb.

Find us on Youtube.com
and search RohrersKennels
Or click the Yorkie Below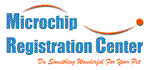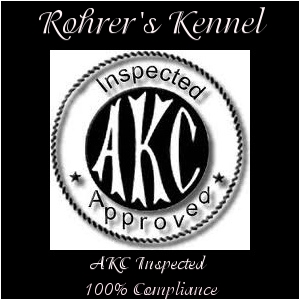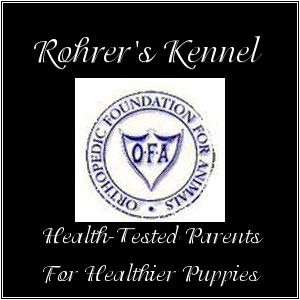 *Please Note these pictures are up close and the pups may look bigger than they actually are.*
If you find that You can not care for your Puppy/ Adult We will gladly take
them back at anytime!!!!











We accept Cash Only at pick up!!!!
We can accept a deposit on Pay pal.
Deposits are non-refundable!!!!
WE DO NOT ACCEPT CHECKS
FOR FINAL PAYMENTS!!
We do charge sales tax.
Our sales tax rate here is 6.75%.
We are located in Goshen Ohio 45122.
Please email me or Join our Mailing List to be
placed on our Waiting List!!

If Buyer does not pick up Puppy by the Agreed
Pick up date there will be an additional Boarding Fee.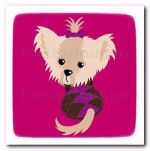 Click the link Below for information on Hypoglycemia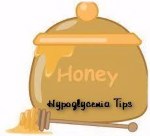 Click on the Link below for Information on the Breed!!




You can join our mailing list below.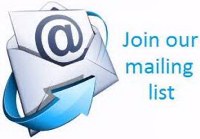 tiny pups for sale in ohio,tiny yorkshire terriers for sale in ohio, tiny yorkshire Yorkie pups for sale in ohio, yorkie pups for sale in cincinnati, yorkshire terrier pups for sale in ohio, yorkshire terrier puppies for sale in cincinnati, tea cup yorkies for sale in ohio, tea cup yorkies for sale
in ohio. darlin yorkies in ohio, tiny yorkies in ohio, yorshire terrier puppoes in ohio, yorkshire terrier tea cup puppies, ohio yorkie breeder, akc yorkie breeder, ohio akc breeder, ohio yorkshire terrier akc breeder,
rohrers kennel, rohrers kennels, ashley rohrer, yorkies in goshen ohio, yorkshire terrier puppies in goshen ohio. yorkie,tea cup yorkie, cincinnati yorkie cincinnati yorkshire terrier,goshen yorkie,goshenyorkshireterrier,google yorkshire terrier,tea cup babies
teddybear face, teddybear face yorkie, cobby yorkshire terrier, shirt yorkie, akc yorkie, akc yorkshire terrier, durrer, akc durrer champions, tiny babies,tiny yporkies ohio, ohio tiny yorkshire terrier. terrier's for sale in cincinnati, oh. Tea Cup Yorkies for sale. Tea Cup Yorkshire Terriers for sale in Goshen,oh. Tiny Yorkshire Terrier's for sale in Ohio. Tiny Yorkies for sale/ Tiny Yorkies for sale in ohio.Tiny Yorkies for sale in goshen,tinyyorkies for sale in cincinnati, teddy bear face yorkshire terrier. tiny Tea Cup yorkshire terreir.